The comfort and unforgettable experience offered by a restaurant has made Ngering Ngewedang Restaurant dubbed the "Heaven Restaurant".
A perfectly designed restaurant with a new supernatural concept and so thick with local wisdom and hospitality. This restaurant is very intended for visitors who want to enjoy breakfast or lunch with friends and family. Spacious place to spend time together is perfect for visitors who want to hold a meeting or alumni gathering.
Upon entering Ngering Ngewedang Restaurant, guests will be greeted with two dancers' ornaments, the lanang – the wife and a tall gate full of beautiful carvings. After passing the gate, on the right, there is a coffee center where guests can choose various types of Balinese Banyuatis Coffee as souvenirs after visiting the Ngering Ngewedang Restaurant.
In the main dining area that carries the outdoor concept, guests will be presented with a view that is so soothing to the eyes, it feels like sailing through the valley to the ocean because of the restaurant's roof design that resembles a boat. With rows of seats on the edge of the restaurant, guests can choose to sit in the upper or lower mine dining without reducing the essence of their dining atmosphere. Seating arrangements direct visitors to see the beautiful expanse of hills and the sea, feel peace in a quiet atmosphere to stretch tension while enjoying a meal.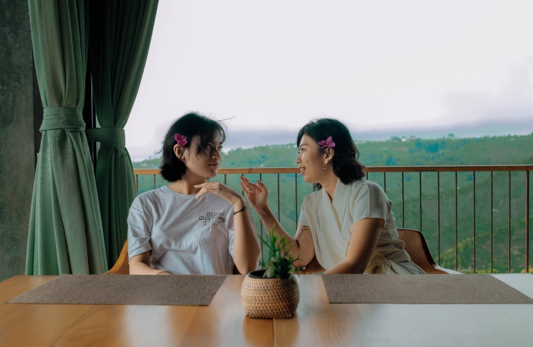 Ngiring Ngewedang Restaurant makes moments of peace and tranquility for you when you visit to enjoy services that can be tailored to the demands of visitors, such as internet access and several other facilities. From the bar and kitchen, guests can enjoy a variety of delicious food and drink menus, such as Bali Arabica, Bali Robusta, Cappuccino, snacks, as well as an a la carte menu for lunch. All services are provided with care and high standards, combined with the hospitality that is so typical of Balinese people.