Restoran Ngiring Ngewedang merupakan bangunan yang dirancang sempurna dengan konsep baru yang supernatural. Ngiring Ngewedang terletak di puncak bukit Desa Munduk, Kecamatan Banjar – Kabupaten Buleleng. Bisa ditempuh dengan berkendara sekitar 3 jam dari bandara Ngurah Rai atau 1 jam dari kota Singaraja.
Fasilitas Kami

02
Kedai & Tempat Bersantai
And Others
Area Selfie, Pusat Toko & Taman
By completing of natural building concept in 24 are sight over, Ngiring Ngewedang provides some facilities such as :
Restaurant
Bar and lounge
Private meeting room
VIP room
Processing coffee bar
Selfie area ( wings spot centre )
Shop centre
Garden
and also Ngiring Ngewedang provides a large parking areas,
1. Main parking area is for car, mini bus and shuttle bus
2. Big bus parking area is located opposite of the restaurant
Main dining ''NN'' restaurant as in most beautiful place for having breakfast, lunch or brunch. Enter to the restaurant will welcome you by warming greeting and pleasant experiences, restaurant featuring menus from all over the world can be found such as : Greek, Italian, Asian, and some of local cuisine likes : Indonesian and Balinese dishes.
The Englan bar and lounge presents a very luxury cocktail or mocktail by viewing spectacular ocean scenery, forest and green nature with imaginative beverages at reasonable prices. The cosmopolitan is the bar signature offers with fabulous taste while overseeing the beautiful panorama in a high place featuring by over north ocean of Bali view.
Tamblingan private meeting room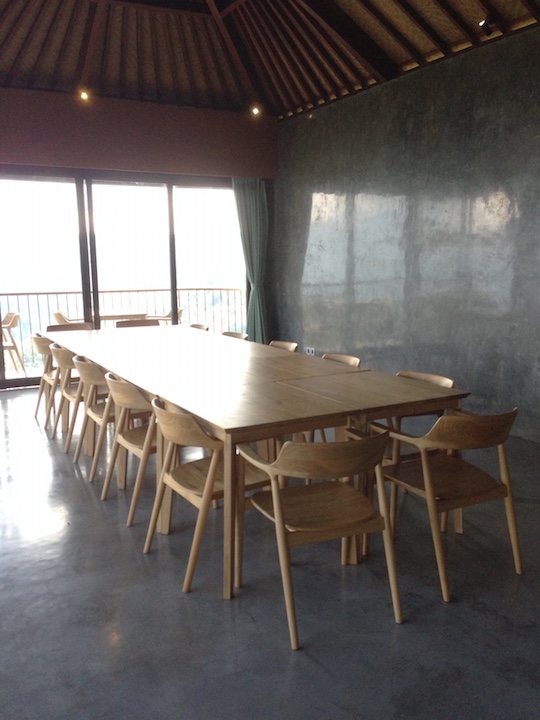 The Tamblingan private meeting room is provided in genuine atmosphere class for business or other importance activities, support by projector, sound system and some other facilities likes high speed wifi, balcony, and over view of Munduk/ Gobleg mountain. Some compliments will be given likes : free water, coffee or tea break, lunch, and etc.